Hilangkan Bintik-bintik Degil Dengan Mudah
Apa Itu Jerawat Pasir?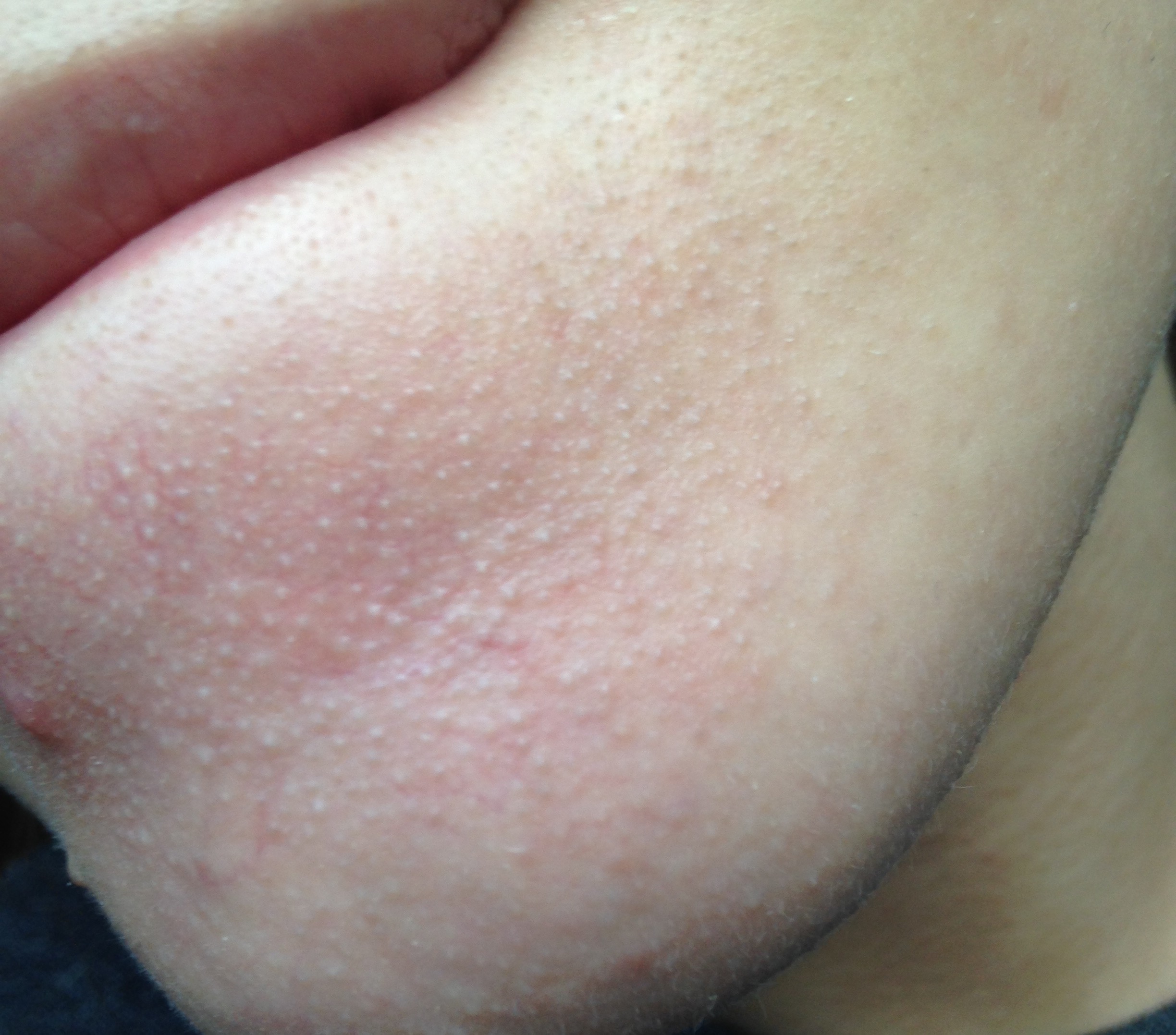 Ok, mula-mula kita kena kenal dulu apa beza jerawat pasir dengan jerawat biasa.
Jerawat pasir atau lebih popular dengan panggilan fungal acne sebenarnya bukanlah satu bentuk jerawat pun.
Fungal acne dipanggil 'jerawat' kerana bentuknya yang serupa dengan benjolan dan bijian jerawat.
Fungal acne atau jerawat pasir selalunya tumbuh di kawasan dagu dan dahi. Jerawat pasir juga tidak boleh dirawat menggunakan produk jerawat yang biasa seperti benzoyl peroxide dan tea tree oil.
Bagaimana Jerawat Pasir Boleh Terjadi?
Jerawat pasir boleh terjadi apabila terbentuknya lebihan yis dikawasan folikel bulu muka dibawah lapisan kulit muka dan menghasilkan nanah yang menolak kulit wajah sehingga terbentuknya benjolan dan bjian halus di permukaan wajah.
Jerawat pasir selalunya aktif dikawasan dagu dan dahi kerana terdapat lebih folikel rambut dan bulu halus di kawasan tersebut berbanding dengan kawasan pipi.
Cara Menghilangkan Jerawat Pasir Dengan Berkesan
Pernah tak anda Dua rahsia yang berkesan untuk menghilangkan jerawat pasir ialah dengan cara chemical exfoliating menggunakan Alpha Hydroxy Acid dan Beta Hydroxy Acid.
Baca selanjutnya disini untuk memahami lebih lagi tentang AHA dan BHA.
Jerawat pasir harus dirawat dari luar ke dalam dengan menghakis lapisan sel kulit mati menggunakan AHA dan mengeringkan lalu menghilangkan segala bijian jerawat pasir ini menggunakan BHA.
Peraturannya disini ialah, AHAH harus digunakan sekali bersama BHA didalam satu rutin penjagaan wajah.
Jika anda mempunya kulit jenis normal, anda boleh menggunakan Pixi Glowing Serum, The Ordinary AHA and BHA Peeling Solution, SomeByMi Miracle Toner dan Serum yang telah mengandungi kedua-dua jenis asid tersebut, namun, tidak semua produk AHA dan BHA sesuai untuk kulit anda.
Kalau anda mengalami kulit kering, jerawat dan sensitif anda harus menggunakan produk AHA dan BHA yang berasingan dan juga mengandungi pelembab untuk bertindak sebagai buffer supaya kulit anda tidak memedih ketika kandungan asid itu menyentuh kulit anda.
Contoh produk AHA yang sesuai untuk kulit sensitif dan kering ialah Glycolic Acid Toner daripada The Ordinary dan Inkey List AHA Serum.
Dan anda harus mengandingkannya dengan BHA Serum.
BHA yang selamat digunakan adalah Salicylic Acid. Produk Salicylic Acid yang populer ialah daripada The Ordinary yang berhasil menghakis kesemua jerawat pasir pada permukaan wajah.
Bukan itu sahaja, anda boleh meningkatkan lagi kuasa penghakisan dengan menggunakan pelembab yang mengandungi Salicylic Acid seperti CeraVe Cream for Rough and Bumpy Skin.
Namun jangan anda khuatir kerana walaupun produk ini akan meningkatkan lagi level sensitif kulit anda, jika digunakan dengan betul, dengan cara menjaga kadar hidrasi kulit dan rajin menggunakan pelindung matahari, anda tidak akan mendapat kesan sampingan langsung.
Jika anda keliru tentang jenis jerawat yang anda alami, usah risau lagi!
Kami ada bermacam artikel tentang jerawat yang anda boleh cari disini tentang jenis-jenis jerawat dan cara untuk merawatnya.
Adakah anda peminat trend wajah Glass Skin yang dipopulerkan di Korea?
Klik disini untuk mengetahui lebih lanjut tentang produk jerawat Monoskin Bioplant Series yang hebat dalam melawan jerawat dan membersihkan wajah dalam masa 7 hari sahaja dan memberikan efek glass skin pada wajah!
Menarik bukan?
Nah, itulah cara yang senang untuk menghilangkan jerawat pasir atau fungal acne pada wajah anda.
Namun anda harus ingat ya, jangan lupa untuk menjaga hidrasi pada wajah dengan menggunakan produk mengandungi humectants seperti Hyaluronic Acid dan sentiasa mengenakan pelindung matahari dengan spf 50 untuk mengelakkan wajah memedih.